If you've been to this blog in the springtime before, you probably know that Hepatica is one of my favorite woodland flowers. Being a Spring Ephemeral its delicate blossoms range from white to light blue, lavender or even cobalt blue. Photos taken 21 April 2011.
(Click on photos to see a larger image.)
Pardon my hand in the photo below – it's meant to show the upright nature of some hepatica leaves. The upright leaves are not very common. I had never seen another hepatica with the upright leaves beside one individual plant on our ridge. This day, I observed three other plants with the upright leaves. Based on my limited observations, I would guess that 5-10% of a population might have upright leaves.
The upright leaves seem to be associated with the Sharp-Lobed Hepatica, Hepatica acutiloba. The upright leaves usually have three or four pointed lobes and they're about a third or one-half the size of the more common prostrate leaves.
These hepatica leaves are pointed at the tips which would make this plant the Sharp-Lobed Hepatica, not the Round-Lobed Hepatica, H. americana. Sharp-lobed hepatica has a prominent central leaf vein that is lacking in Round-Lobed Hepatica. We like to call round-lobed hepatica leaves Mickey Mouse Ears because the leaf lobes are so rounded.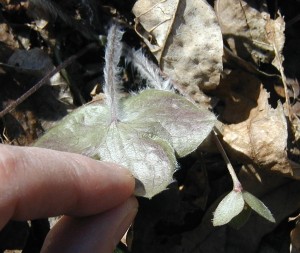 If you haven't been lucky enough to see hepatica on your nature walks, realize that you'll only find them in woodlands. When you're out there on the trail, make sure to take a look at the bases of trees. A large proportion that I've seen have been at the base of a tree. I counted nine hepatica plants in this area that I couldn't photograph (due to lack of enough battery juice) and four of them were at the base of large trees.
I can't claim that half of all hepaticas will be found there, but the contrast of the colorful flowers with the tree bark makes them easier to spot than their cohorts among the leaf litter. Surprisingly, the bright flowers blend in with splashes of sunlight that hit the forest floor.
Hepatica is a perennial so when you find a nice specimen make a note of it so you can go back in future years to see it again.