For a couple weeks we had seen a few spring beauties here and there, but nothing like what we saw today. Colonies of hundreds of the spring flower, Spring Beauty, Claytonia virginica, were flowering in the sunshine.
On the hillsides in the woods along the river road spring beauty blossoms were shining in the sun.
The highest patch of ground in the image above was absolutely covered with the white, five-petaled flowers of Spring Beauty. Telephone pole included in shot for scale.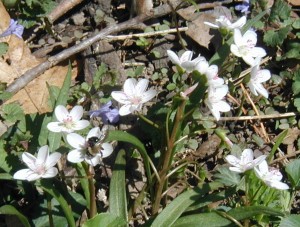 Pollinating bees visit the spring beauty flowers. The light blue flowers are ground ivy that often occurs in the same areas as spring beauty. Other cohorts include the common blue violet, chives, mayapple and trout lily.
Areas along the road in this hilly area near the Juniata River had huge patches of flowers.
In the image above a huge colony of spring beauties is separated by the old canal. Next to the river plenty of Spring Beauty flowers were blooming. Spring beauty can be found in moist woodland areas, especially next to rivers, creeks and backwaters.
This Spring ephemeral is small, only getting the height of the grass and dandelions. A pair of linear, or grass-like, leaves occurs halfway up the stem. The flowers occur in loose clusters with first a single bloom followed by several at once, like we see here in this mass blooming.
Mass of blooming spring beauty. Note the river in the background above.
Until the guy mowed the area of grass next to his corn field, this land adjacent to the river was a mass blooming of spring beauty. I think a woman would have waited until next week to mow that area – I know I would have! (Photo taken 15Apr2010, other photos taken 10Apr2010.)