As I let the dog out in the backyard right then I knew a flock of Canada Geese was heading home on their Spring migration. I heard them first making quite a racket so I looked up and was overjoyed to see a huge V-formation of these impressive flyers. Spring!
A little later in the day I went outside to enjoy the fresh air. It was a gorgeous day yesterday with a pretty, deep blue sky.
Caught some really cool looking cloud formations with the sun bursting through. Kinda like how I'm feeling now!


Even though the chatter in the clouds foretold the winter storm that is on our doorstep, I didn't let that ruin my day. This sunshine felt amazing although the temp wasn't very warm.
Day-lilies and narcissus have sprouted their greenery a few inches up here on the mountain ridge.
The first flowers that we'll see belong to the maroon-flowered hellebore. The lighter pink bud will open into a pretty flower in due time. (Click on any image to see a larger view.)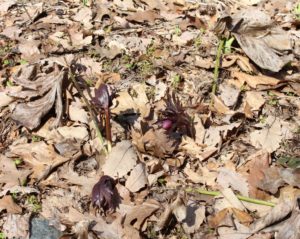 Newly formed leaves are maroon in shade like the flower petals, but much darker.
The older leaves still have green stalks but their fingerlike-fronds have dried to a tannie brown.
Other signs of spring are trickling in…saw a groundhog one day last week as we drove down a country road. It was crossing an old cornfield probably in search of some grub.
Heard some songbirds yesterday as the temps reached up to 50 degrees. The sunshine was abundant and we had a cold night last night.
As I was admiring the shapes of the pretty clouds I heard muted swan calls and saw them flying high above me. Heading north, they were. Maybe Tundra Swans.
Back-lit swans appeared dark against the bright white clouds.

The same group of 66 swans flying home showed their true colors when viewed with the sun shining on their backs. Fly! Be free!!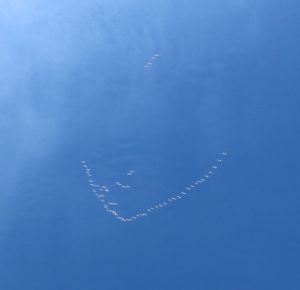 Temperatures are forecast to hover around the 40s for the next week or so, but we have to get through this (maybe last?) Nor'easter storm. Several inches of snow could cover the land very soon.
Get ready! April flower walks will begin in a couple weeks. Can't wait!
Where will you go this Spring to see Mother Nature in all her glory?