Image via Wikipedia
One of my favorite trees bloomed beautifully this year. The weather cooperated to stay chilly during the blooming period for the Eastern Redbud, Cercis canadensis. The redbud is native to the eastern US and as the Peterson Eastern Trees Guide
tells us, Central Pennsylvania is the redbud's northern-most limit.
I delight at seeing the redbuds each spring at the edge of the woods, peaking out with their rosy purple blossoms. Perhaps its the time of year – Happy Spring.
Redbud flowers arise directly from the stems. From a distance the blossoms appear to follow the lines of the tree. The result is a purple outline of many of the tree's branches. Nice thin lines.
I think the redbud was probably the tree that made me realize that wild trees flower and can be beautiful doing so.
The flowering redbuds stand out where the corn field meets the woods at the base of the ridge. I look for them every Spring, but I'm sure that quite a few people zip down the highway without noticing them. Sad, don't you think? Stop and smell the roses, people!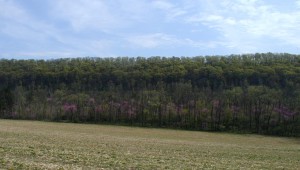 The redbuds flowered from at least the 10th, and probably a couple days before that, through the 23rd of April when some trees were noticed with leaves coming out. Rain on 24-25 April probably took down a lot of spring tree blossoms.
It's hard to pin down the flowering times or blooming times of spring flowers. From year to year differences in weather patterns will dictate the blooming times of at least some of the Spring ephemerals.
We live in the Ridge and Valley Province of Pennsylvania, where you can change elevation in a matter of feet. Since elevation plays a role in temperature, it will also play a role in blooming times. From certain vantage points you can watch the tree leaves emerge in turn as you go up the mountain. In town, which is some 200 feet below our place on the ridge, plants can flower a week ahead of ours…forsythia, dogwood, azalea are examples from the past couple of weeks.