Northern downy violets and common blue violets were very pretty for the last month. At our location in south-central Pennsylvania the common violet comes into full bloom about a week after the northern violets are peaking in their abundance.
Downy northern violet starts blooming here during the last week of April. As a community they bloom for at least a couple of weeks with new flowers springing up in between the long scalloped leaves of any given plant. Violet plants that receive only morning sun started blooming later than those in the open yard, so our entire blooming season for these pretty purple violets lasts about a month.
The easiest way to tell the difference between downy northern violet and the common blue violet is to look at their leaves. The downy northern has elongated leaves with scalloped edges and spurs on each side at the base of each leaf. The first leaves of the season are shorter and somewhat rounded and they may be confused with the common blue violet leaves which are heart-shaped leaves with scalloped edges.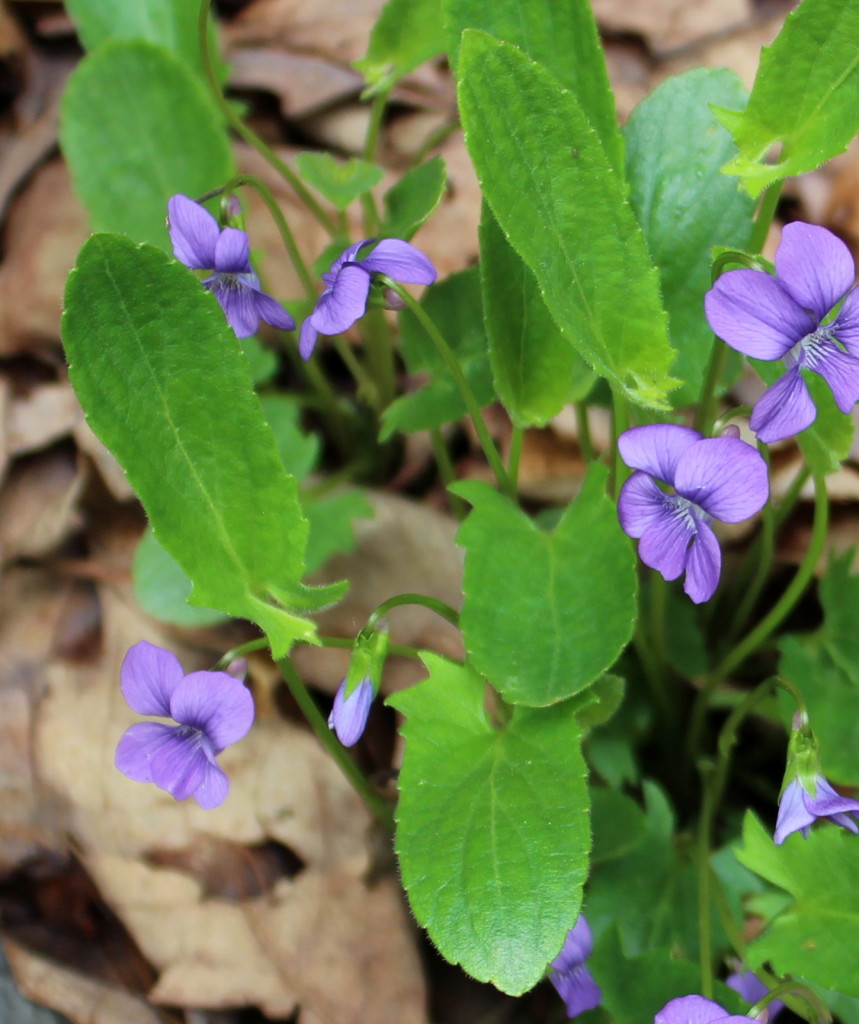 We appeared to have lost the only two examples of arrow-leaved violets this winter. These plants were different than the much more plentiful common blue and downy northern violets. The leaves were large and the whole plant noticeable from a distance merely due to its size, as compared to the diminutive downy northern violets. The blooms weren't much different as I remember, but the leaves were more wedge-shaped than the upright and narrow leaves of the downy northern violet.
We decided to hold off on making violet jelly this year. We still have one jar and plenty of other jellies in the pantry, so as Momma would say, "Waste not, want not!" We'll save the sugar for making blackberry jelly or maybe elderberry jelly in 2 or 3 months.