Miterwort is a wildflower that I'd heard of or read about, but hadn't seen in real life until this Spring. Also called Bishop's Cap, Mitella diphylla, miterwort can be found in lowlands and habitats near water.
The leaf structure and flowers are unique enough that miterwort should be immediately recognized.
Miterwort has two types of leaves, basal and stem. Basal leaves are broader than the pair of stem leaves that sit about halfway up the flower stalk. Both types of leaves are notched and might remind one of a maple leaf. The stem leaves, which do not have stems of their own, but rather appear attached to each other at their bases, are a distinguishing feature.
The image above shows a couple larger basal leaves and stem leaves that are joined at their bases where they meet the flower stems.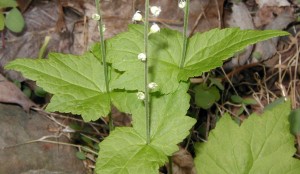 The tiny, cream-colored flowers sit above the leaves on a flower stem that may reach 12 inches tall.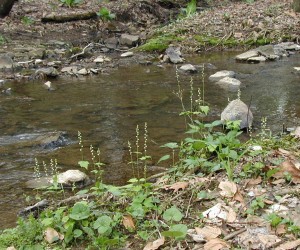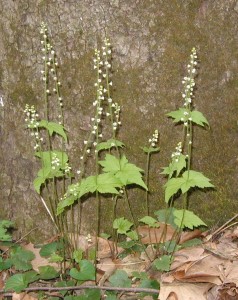 Cohorts include the common blue violet, wild ginger, Solomon's seal (not yet in bloom), trout lily (done blooming), ferns.
Flowers of miterwort are small, but beautifully fringed giving the appearance of a snowflake. Some say the appearance is like that of a miter, or Bishop's Cap, thus the common name. A plant that I think resembles a miter much better is this desert cactus.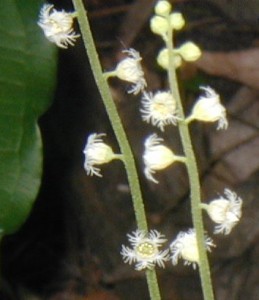 Snowflakes seen in close-up view of miterwort flowers. (Last photo taken 30Apr2010, all others taken 18Apr2010.)