An Amish man shared a new vegetable with us a few years ago. We were at a farmer's market appreciating the colorful selection of peppers and tomatoes when we came across something we had never seen.
(Photos taken 31 August 2011. Click on any picture to see a larger image.)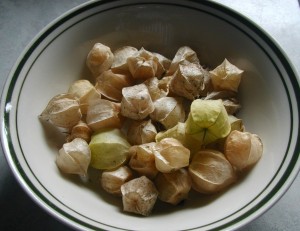 This new fruit was like a small Chinese paper lantern with a very small yellow tomato inside. The little round fruit is like a tomato about the size of a large pea. Just pull back the edges of the papery shell and eat the fruit or pluck it off the stem. Put the paper sheath and stem in your compost bin.
Ground cherry is the right name for these little fruits because the taste is surprisingly sweet. They're sweet enough that the little yellow fruits are often used to make jams, jellies and pies.
Ground Cherries are also called Husk-Tomatoes. We bought a couple of plants a few years ago for the garden. They've dropped seeds every year since and come back to produce an abundance of fruit. It's important to have more than one plant for fruit production, so make sure that you grow two or more plants. The individual plants don't self-fertilize so with only one plant there is little hope of fruiting.
Our variety is an Amish heirloom type that was simply labeled as ground cherry (husk tomato). There are over a dozen species of Physalis native to Northeast USA, so it's hard to say exactly which species we have. It may be the Strawberry-Tomato, Physalis pruinosa, judging by the leaf shape with scalloped edges and a heart-shaped base, and mature fruit that is yellow. Other varieties include ones that have more or less downy or hairy stems and fruit that may be reddish or purple in color in addition to the yellow that ours gives. Take caution: the green unripe fruit is poisonous.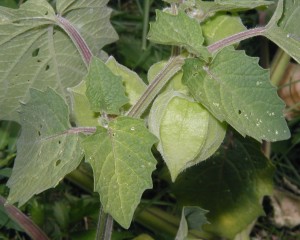 The plant will often drop fruit before it's ripe, but the fruit will ripen on the ground inside its protective husk. The paper husk turns from green to yellow to tan as the fruit ripens. Sometimes you'll see the paper of the husk getting thin, but the fruit will have been protected for many days and most likely still fine to eat. If left too long, the insects will find it or the seeds will re-emerge as next season's plants.
In central Pennsylvania we get to enjoy the harvest of husk tomatoes from August through September and part of October until the frost comes.
If anyone wants some husk tomato seeds or ground cherry seeds, we have some to exchange or via paypal. Contact wilde at wildeherb dot com.