Once you see the deep, dark purple of New York Ironweed flowers, you'll be on the lookout for them at Summer's end each year.
About the middle of August we start seeing the 3-4 feet tall "weeds" along the county roads near the places where goldenrods and asters show off their colors, especially in wetter areas near culverts and along river bottoms.
Standing 3-4 feet tall, NY Ironweed is typically found in old pastures and waste places. Photos taken 14 August 2008.
Looking down on the long, pointed lance-shaped leaves of New York Ironweed.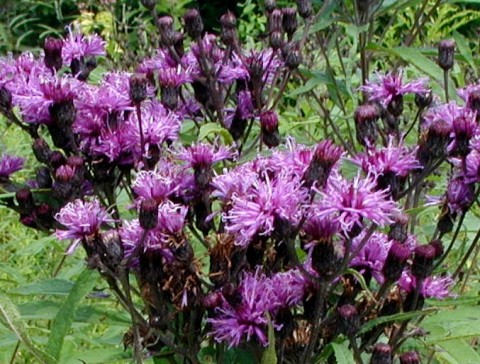 The flowers of New York Ironweed are a much deeper violet color than what this photo shows.
New York Ironweed, Vernonia noveboracensis, gets its common name from the toughness of the stem – it's like iron. Just try and break off a stem to take a piece with you!
New York Ironweed differs from Tall Ironweed, V. altissima, by having long threadlike bracts on the flower head base and 30-50 flowers in each head. Tall Ironweed has short-pointed bracts and fewer flowers in the flower head, approximately 13-30 flowers. Both are rayless members of the Composite family.
New York Ironweed stands tall in this cow pasture. Apparently the cows won't eat it.
Native Americans made use of an ironweed root tea for the treatment of irregular menses, bleeding, and stomach upset.