Another beautiful day in the neighborhood! The weather has been absolutely gorgeous the past couple days, and unseasonably warm for October. We're hitting our peak color up here on the ridge as the maple trees are really putting on a show.
Rusty orange and scarlet red maple leaves are set off by the bright yellow leaves of the birch trees. Hickory trees are starting to turn their golden, yellow brown, but the oak leaves are still green.
Maple-leaved viburnum, Viburnum acerifolium, a shrub that reaches three to six feet tall, is one of the showiest in our woods. Sporting purple-red leaves and purple-black berries it catches one's eye.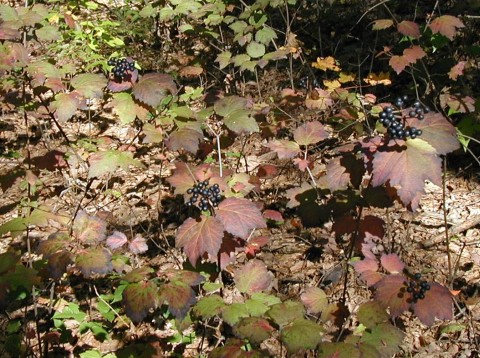 Maple-leaved viburnum showing off its pretty fall foliage and berries. Photos taken 10Oct08.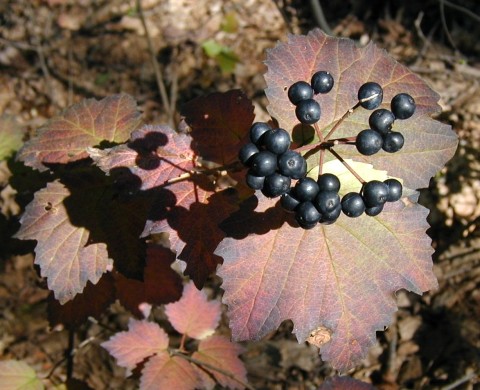 Close-up of maple-leaved viburnum.
This particular Viburnum species does not apparently have medicinal or culinary value for us humans, so we'll leave the berries to the turkeys and other critters in the forest. Related Viburnums do have edible qualities, most notably the Highbush Cranberry, V. trilobum, and Wild-Raisins, V. nudum and V. cassinoides.