Nearing the end of summer we can always find some neat-looking critters somewhere on the vegetation that surrounds us. Many times the bugs and insects are making a meal out of a carefully planted and nursed garden flower or plant. Sometimes we see cool-looking insects perched on the house or vehicles. If they're different than ones we normally see, somebody runs to get the camera.
Today, looking out in the back yard I noticed from a distance that my small White Flowering Dogwood trees, Cornus florida, were really taking a beating. The leaves were obviously being eaten as the little trees looked almost stripped bare from where I stood on the porch. But what or who was eating the leaves?
Closer inspection revealed two small visitors to the dogwood trees and they were still munching away as I snapped these pics.
This brown caterpillar with four white head spots — dashes really — seemed very busy munching on a dogwood leaf.
I didn't touch it with my bare hands because I saw long hairs, or setae, projecting from its body. Some of the caterpillars have what are called urticating spines which can really pack a wallop and sting ya' good! I wasn't taking any chances with getting stung so I carefully removed this critter from the tree before it ate the last leaf.
Brown caterpillar with white dashes on its head and a lighter brown streak down its back.
This little green fellow was on the underside of a dogwood leaf. Its back was rather dome-shaped and its belly did not have distinct feet or legs. The head end was definitely more rounded than the pointy tail end, but as it sat on the plant I couldn't really see a head per se. As close as I can tell its the Yellow-shoulder Slug caterpillar, Lithacodes fasciola .
Undulating its "belly" allowed this little yellow-green fellow to move fairly quickly.
Lying on its side — notice the shadow of a wave of motion that traveled down the length of its body as the slug caterpillar tried to upright itself.
This is the time of year that the asters and goldenrods are blooming profusely in open, fallow fields. At the edge of our woods, where the tree line meets what we call a backyard, a small group of White Wood Asters, Aster divaricatus, blooms every year.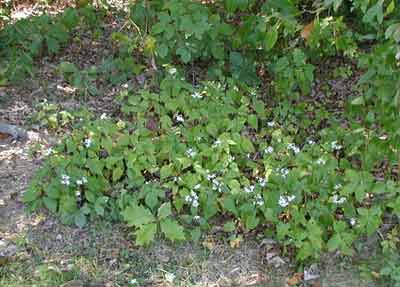 A small patch of low-growing White Wood Asters lies in the shade except for some filtered sunlight that reaches them in the early part of the day.
The white flower heads lose their short petals easily, so these flowers are not for picking. We just appreciate them being there.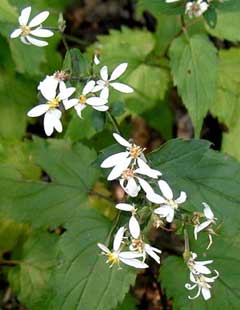 The False Solomon Seal berries are now crimson red with white speckles. Their collective weight draws the tall stems almost down to the ground. Eventually, the berries will either be eaten or lay upon the ground to start the growing cycle all over again.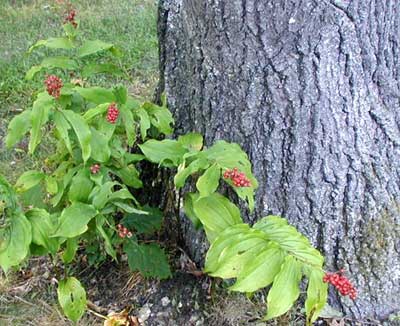 Underneath the shade of a White Oak several native False Solomon Seal plants lend color to the area with their bright red berries that appear every autumn.
False Solomon Seal berries form at the terminal ends of the two to three feet tall plants and mature to a bright red color with speckles of white.