Lemons, too bad they're tropical. It would be great to have a lemon tree in the backyard, but you'd have to live in Florida or similar climes for that.
Wouldn't it be great to find a local alternative for a lemony taste? That way we could always have some "lemon" on hand.
It turns out that the berries of the sumac shrub can be used to add a sour note to our favorite foods.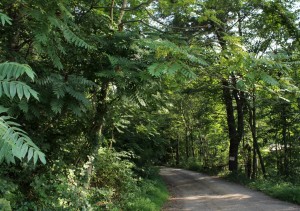 Sumac would be considered a shrub or understory tree. It needs to grow with lots of sunlight so you'll find in sunny locations like at the edge of roads or fields.
In Eastern USA there are several different species of sumac. One that we have in abundance here in Central PA is Staghorn Sumac, Rhus typhina.

Staghorn Sumac is the most common sumac that grows in Northeastern USA. The fruits of this deciduous shrub are cone-shaped clusters of fuzzy red berries.
The "staghorn" name comes from the velvet-like surface of branches, a helpful identifying characteristic.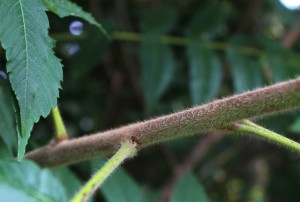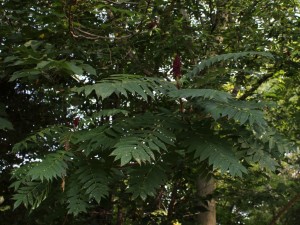 The fruit cluster at end of branch is held above giant compound leaves that can stretch out to two feet long.
The berries are edible and used as a spice or flavoring agent.
Once you mention sumac though, some folks think poison right away. That's because there is a totally separate plant called Poison Sumac.
Obviously, we don't want to eat that one, but its berries are white and not likely to get mixed up with the edible red sumac berries.
Also, Poison Sumac grows in swampy areas, not in the upland and agricultural areas where you'll find Staghorn Sumac.
Identifying characteristics for Staghorn Sumac:
pinnately compound leaves
lance-shaped leaflets strongly toothed
leaflets without stems, sessile
twig bark with velvet-like surface of long hairs
small round fruits held in upright cone-shaped cluster at the ends of branches
individual fruits fuzzy or hairy and red when mature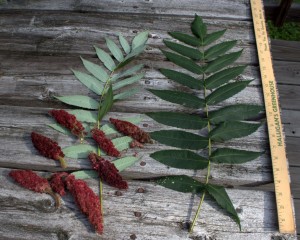 If the plant you've found has all of those characters, you're good to go. Check the photos and a field book, like Newcomb's Wildflower Book
, if you're still not sure.
Use a sharp knife to remove the cluster of berries from the branch or grasp firmly and break off the cluster with your hand.
Put the fruit clusters into a paper sack so that any of the little fruits that get knocked off aren't lost.
Go collecting on a day in July or August when it hasn't rained for at least three days. You want the little fruits to be dry.
Rain washes off or dilutes the lemony taste.
To find sumac look at the edges of fields, along roads and right-of-ways, and in other areas where the ground has been disturbed.
Sumac likes to grow at the edges of forests and fields. When the foliage is starting to turn colors in autumn the sumac shrubs will be easy to find as their leaves turn a bright, bright red.


Autumn is too late for collecting these berries, but you can locate the plants then for collection in future years.