A few years ago there were only a few ferns on the north side of the house. The ferns are plentiful in the adjacent woods, but there they do not form mats. The forest ferns rise up in a 'singular' fashion and the fronds are not all bunched up in a large grouping.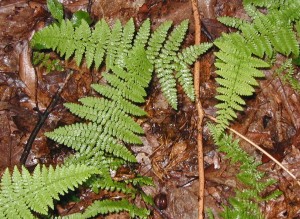 Ferns come up in early April as they slowly unroll their long fronds. Each frond starts out rolled up in fiddle head fashion.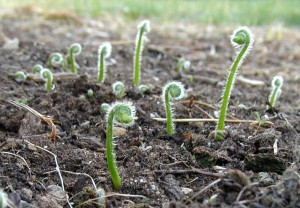 Photo above taken 11 April 2010.
At the back of the garage the ferns numbered a few on the left and the right side was empty. As the years went by the ferns spread out in both directions, further away from the building and further to the right.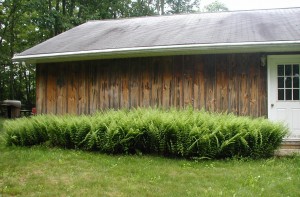 Photo above taken 31May2010.
The original patch of fern was a few feet wide and perhaps three feet deep. Seven years later the ferns have taken up the entire width of the garage, about 20 feet wide, and the patch is a good six feet deep.
(I hunted for a pic of the small early patch of ferns, but no luck.)
This patch is now thick with fern fronds. As the ferns came up this Spring the area wasn't raked of leaves or anything and the ferns sprouted up the thickest we've seen them.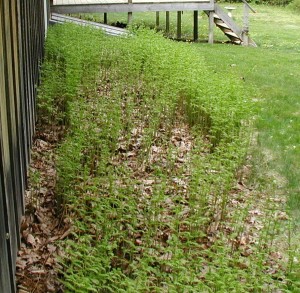 Photo above taken 2 May 2010. I found it interesting that the ferns that grew the biggest first were the fronds right next to the house and the fronds furthest from the house. This probably signals that the growing ends of the roots are the strongest, and therefore, the first to take advantage of a new growing season.
In the woods these ferns are in more of a singular fashion. Several fern fronds will be in the same area, but they tend not to occur en masse, at least at this location and time. If left alone the Hay-Scented Fern, Dennstaedtia punctilobula, would probably create a near monoculture like what you see behind the garage.
We have a few different kinds of ferns on our land here in South-central PA. The hay-scented fern seems to be the most prolific. We see it in the most places and there are more of them compared to the other ferns.
Hay-scented fern, although it is native to North America, can be invasive. Judging by the thick growth at the back of the house, it's easy to see that under the right conditions this plant could be a pest. Having said that, I do really like the fact that the ferns are perennial and come up to fill in the length of the garage year after year.
Related articles by Zemanta