Echinacea, otherwise known as Purple Coneflower, is native to the prairies of North America. We haven't seen it in the wild up here in Pennsylvania, but we know it as a garden flower.
Purple coneflower is a perennial that can be invasive in the garden or flower beds as the plentiful seeds of this composite family member will sprout the following year into many small plants. To keep flower beds tidy most of the volunteers will need to be pulled up. Successive years brings more growth as the plants get larger and larger. Older plants have more blossoms and they're taller with flowering stalks up to five feet tall.
Purple coneflowers consist of light pink to deeper pink to lavender ray flowers and dark orange disc flowers. Some flower heads have petals that are distinctly swept back, while others mature to that position after having started out with a more horizontal look.
The cone of disc flowers starts out as a flat disc and as the outer disc flowers mature they grow in size which has the effect of pushing up the center of the disc, making the obligatory cone shape. When all the disc flowers have bloomed, the central disc truly is a cone-shaped coneflower. We let the cones overwinter as they serve as a food source for goldfinches, cardinals and tufted titmice.
Two species of Echinacea are common. Echinacea purpurea, known as Purple Coneflower, and Echinacea pallida, the Pale Purple Coneflower. The two echinaceas are very similar, but they can be differentiated by their lower leaves. E. purpurea has toothed, long-stalked leaves, whereas E. pallida has parallel-veined leaves that are toothless.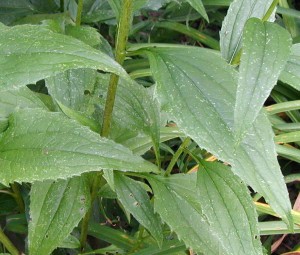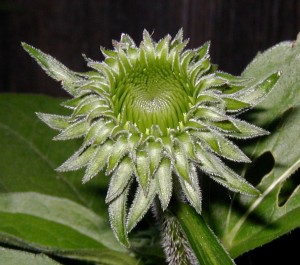 Bracts, stems and leaves are all rough to the touch because of the presence of small stiff hairs.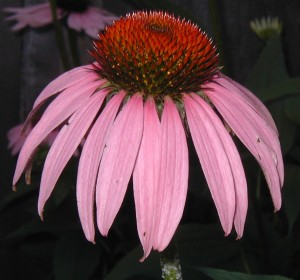 Supposedly the Pale Purple Coneflower has lighter petals that are more pink than the darker Purple Coneflower's reddish-purple petals. I wouldn't use the petal color as a way to identify the species though. Judging by the progeny of one Purple Coneflower plant over several years, there is a lot of variation in the color of petals.
Different color varieties of the Purple Coneflower are available for your garden at local and online retailers. You shouldn't have to look hard to find a mix of pink, purple, white and yellow blooms! A true favorite – and the birds and bees love it too.