Last week the yellow-necked caterpillar made a return! We hadn't seen these voracious caterpillars for a couple of years then outta nowhere they're seen huddled together on an almost naked blueberry branch.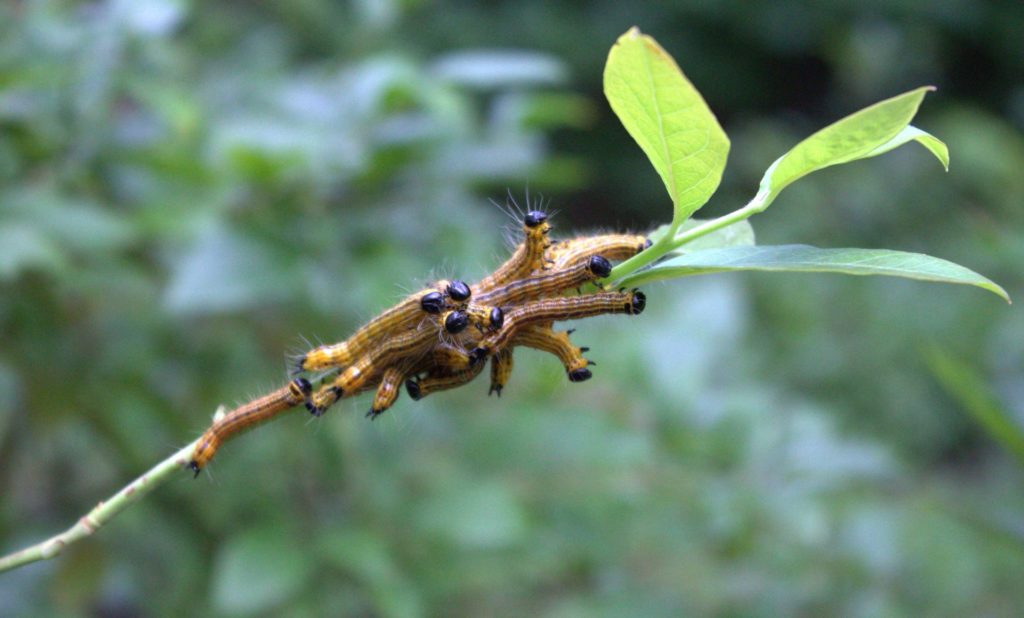 (Photos taken 13 August 2017. Click on any image to see a larger view.)
Take note of the thin yellow segment just behind the black head. That's how it got its name, Yellownecked Caterpillar.
If I just let them go on eating, I wonder how much of a single blueberry bush they could eat? Funny, when I noticed them these black and yellow caterpillars were huddled in a group on a bare stem. Do they eat at night? Or were they just finishing their meal when I happened upon them?
This morning I see another bare stem on a blueberry bush so I'll have to go out with some clippers to prevent more damage.
One cool thing about the yellownecked caterpillar, Datana ministra, is its habit of curling both ends of its body when threatened. It's a defensive posture that they make, but I'm wondering what other caterpillars do this?

If you see these caterpillars on your ornamental trees, shade trees or fruit trees, shake the branch they're on and they'll show you who's the biggest!
What kind of butterfly makes the yellow-necked caterpillar?