What's a sunflower without petals? A little inconspicuous, I'd say!
The plant we're looking at today is called Beggar-Ticks and it's a member of the Compositae, the Family of Composites or Daisy-like flowers.
The sepals make the posies look like flowers, but with green "petals".
Looks like the kind of flower that I would draw — I'm no artist with a pencil!

I was surprised at the stature of these "bushes" of Beggar-Ticks as they were tall enough to appear to be shrubbery. Standing at 4 feet tall, they're definitely growing in a beneficial area. The individuals I've seen before stood 2 feet tall at the most.
The partial shade, damp habitat was at the edge of the woods near the parking lot in the Day-Use Area of Little Buffalo State Park in Newport, PA.
The thing that many of us who like to take walks in the woods, or those of us who have dogs or children, will be most familiar with the seeds of Beggar-Ticks. The seeds stick to clothing and fur so another name for Beggar-Ticks is Sticktight!
Identifying characteristics of Beggar-Ticks, Bidens frondosa, include: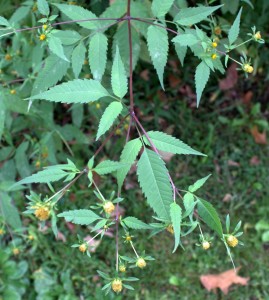 rayless composite flowers
stalked leaves have 3-5 lance-shaped, toothed divisions
5-9 green leafy bracts appear where petals are expected
fruits are flat seeds with 2 barbs
blooming period is August to October
We'll have to wait for a couple of weeks to get some photos of the fruits or seeds. Photos here taken 19 Sep 2015.