While chopping out some of the multiflora rose that had introduced itself onto a new section of the farmer's lane, I uncovered a new plant. I knew the moment I saw it, that it was one I was unfamiliar with. The briars of the thorny roses were tossed into a heap away from the little new plant.
This new plant was indeed a small one. It grew from a few to several inches tall in the filtered shade under the canes of the rose bush.
White Wild Licorice, Galium circaezans, has tiny white flowers in clusters and leaves in whorls of four. Yellow Wild Licorice, G. lanceolatum, is a similar species with yellow flowers.
Plants found growing along with white wild licorice include spotted touch-me-not, poison ivy, blackberry, elderberry and maple, among others.
Leaves are uniform in appearance with a certain symmetry of four leaves in a whorl. Each softly hairy leaf is entire, blunt or rounded at the tips, and oval in shape. Leaves have three distinct veins and have a broad appearance.
The blossoms are tiny, greenish-white flowers, each having four pointed petals.
Wild licorice blooms over a period of a couple weeks or longer. Flowers develop into seed pods that look like little spheres with fuzzy surfaces.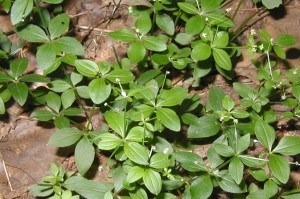 Leaves really do taste like licorice. Chewing a leaf releases a cool, sweet taste that is reminiscent of stevia, but with a very pleasant aftertaste. Sometimes stevia is said to have a metallic aftertaste. Because of the licorice taste, I wonder how anyone has used wild licorice.
There is no mention of G. circaezans in the Peterson medicinal
or edible plant field guides
. Another member of the Bedstraw (Madder) family, Rubiaceae, called Cleavers, G. aparine, is listed as having diuretic and hypotensive properties.