Looking around the mountain we see the red and sugar maples are sprouting leaves, the four-year-old lilac finally has one bloom, and Northern Downy violets are opening along the lane and at the edge of the open woods. Sassafras trees are almost ready to bloom, their blossoms getting bigger by the day.
Cherry trees blooming fully as of today – the sun has helped to bring them out. (Photos taken 22 April 2009.)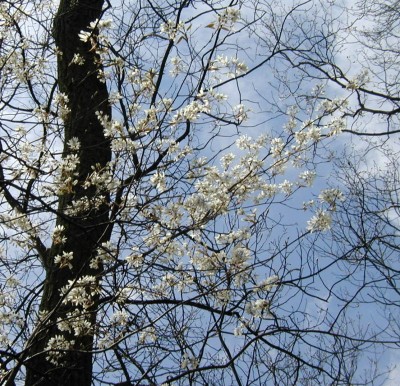 Cherry trees in full bloom.
Wild cherry blossoms getting ready to open.
Not the black cherry though, it's flowers are just in bud formation and probably won't open for another week or so.
Black cherry flower buds.
A few wild weeds that are blooming now include the purple gill-over-the-ground, the yellow mustard, and the white chickweed, strawberry, garlic mustard, and Pennsylvania bittercress. The greenery of pink lady's slipper is now emerging from the cold ground, showing an inch or so of their hairy, succulent leaves.