We harvest plants for many reasons. The plants in the vegetable garden and other edibles, like blackberries, elderberries and blueberries, provide for our sustenance and good health. The herb garden plants also find their way into the kitchen where they're hung to dry for the cook. Other plants are harvested for their beautiful flowers and still others are gathered and dried for their medicinal content or used in crafts and decorations.
I'm sure it doesn't surprise anyone that some herbs are appreciated for their scent alone. Who wouldn't like to lay their head on a lavender pillow?
Another example of an herb that is appreciated for its scent is called Sweet Annie, Artemisia annua. Sweet Annie is also known as Annual Wormwood, but I like the more descriptive Sweet Annie.
Sweet Annie has been used for a long time as a natural room air freshener. Folks in the old general store would hang a bunch of Sweet Annie from the corner of a room to cover up musty odors. In the olden days, and most likely in many Amish and Mennonite homes yet today, Sweet Annie would be hung in the pantry to give a pleasing scent, but also to act as a pest deterrent. We have a small bunch hanging from a towel rack in the bathroom.
Sweet Annie is grown in herb gardens for its aromatic foliage, but it has escaped cultivation to become established in the U.S. Even though it can be classified as an alien weed, Sweet Annie is here to stay.
In the following picture you can see the numerous small, hanging flower heads. As a member of the composite family Sweet Annie will produce many small seeds from each little flower. Its flowers are tiny, yellow-green and ray-less.
Holding up the Sweet Annie stem, you can see the spikes of yellow flowers rise up from the leaf axils.
Ok, do you think Sweet Annie has a chance of re-seeding itself?
Remember, it's a composite family member so each little yellow bloom will produce several smaller-than-poppy-seed small seeds!
Foliage of Sweet Annie is deeply and finely cut, fern-like, and stands up to 3-4 feet tall. You'll find it in waste places and along roads.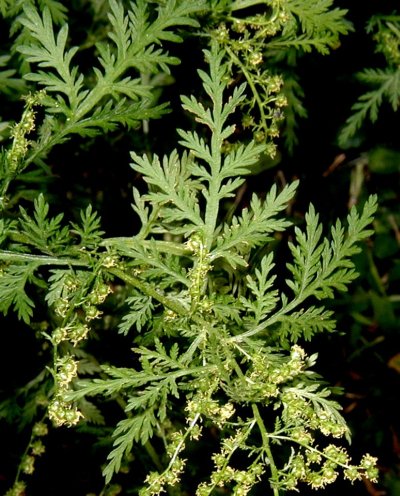 The finely-cut leaves of Sweet Annie.
Related plants in the genus Artemisia are typically very fragrant and include the mugworts and wormwoods.
Leaves and seeds are used medicinally, so Sweet Annie is appreciated for more than just her scent. Leaf tea can be used to treat colds, fevers, and diarrhea, while poultices can be used externally to treat abscesses and boils. Compounds that can be derived from Artemisia annua have been researched for their antimalarial and herbicidal properties.