In Spring I was curious about a plant that looked like a strawberry plant, so I dug up a couple of these weeds and put them in a flower bed. That way I could keep an eye on them and see what they developed into.
Right away I decided they weren't strawberries because the stem was thick and upright, hairy, too. It also started to branch out.
Strawberry plants have only basal leaves and are vining in their growth habit, not upright and branching. Each strawberry plant sends out runners that reach about a foot away from the mother plant and put down roots to develop another strawberry plant. We have some ever-bearing strawberries, called Ozark Beauty, that are ripening another set of berries right now.
The flowers of my weed are five-parted and yellow, but sort of inconspicuous because the petals tend to curl in a bit. It turns out that my weed is called Rough Cinquefoil, Potentilla norvegica.
Identifying the plant was easy using these characteristics: 5 regular parts, yellow flower, hairy, thick stem, and alternate, palmately divided leaves in threes. Also, the plant gets to be 1-3 ft tall and spreads to 4-6 ft across – much larger than any strawberry plant.
Strawberry-like leaves of rough cinquefoil in threes. Note the hairy stems. Photo taken 16 June 2008.
Strawberry plants on the left are low to the ground, while the much larger rough cinquefoil plants grow two or three feet tall with some stems laying onto the ground.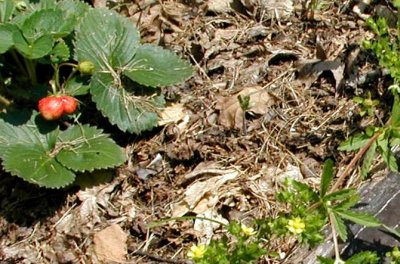 Strawberry leaflets on the left are much broader than the narrow rough cinquefoil leaflets on the right.

Only a few small bright yellow flowers of rough cinquefoil are open at a time and they last for about a day.
There is apparently no medicinal or edible interest in the rough cinquefoil, so it's history in the wildeherb garden.
Now that I've decided to pull out the rough cinquefoil, those Ozark Beauties will have a little more room to send out their runners. Next year we should have a larger harvest of strawberries.