This morning I found the cereal cupboard bare except for a sample-sized box of Fiber One cereal, made by General Mills. Left behind by one of the summer guests of the mountain, I figured that the children chose all the really sweet ones first.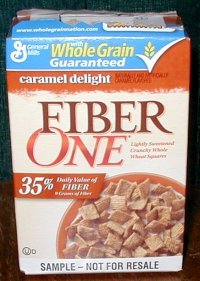 Fiber One sample cereal box.
I wouldn't have purchased the small boxes because they have too much packaging to throw away. Different from the scored boxes we had as kids that doubled as bowls, this one had no scoring, and instead, the cereal was safe inside a heat-sealed plastic bag. Eating milk and cereal right from the box was fun – probably a memory from my childhood that today's little ones won't experience.
As I munched on the surprisingly sweet cereal right out of the bag, I just had to read the ingredients to see which sweetener was inside…sugar (second ingredient), fructose and dextrose. There's little surprise there. Maybe it's a great source of fiber with 9g per 1 cup serving, but the carbs, at 41 g, might be a little high for a diabetic.
Here's the ingredient list for those of you trying to find a healthy alternative to Sugar Smacks:
whole grain wheat
sugar
corn bran
chicory root extract
maltodextrin
rice bran and/or canola oil
fructose
salt
dextrose
trisodium phosphate
soy lecithin
natural and artificial flavor
bht added to preserve freshness
enriched with a host of vitamins and minerals
There's some whole grain goodness inside, but probably too much sugar to earn a gold star.
Surprised by the fourth ingredient, chicory root extract, I'm wondering if that is the ingredient responsible for the "caramel delight" flavor. What gives the natural and artificial caramel flavor? Perhaps the chicory root provides the light brown color. Before reading it on this cereal label I've only heard of roasted chicory root being used as a coffee substitute. It has to impart some taste to the cereal, doesn't it? I wonder what other foods contain chicory root extract.
Chicory, Cichorium intybus, is in bloom all along the country roads in Pennsylvania. The sky blue blossoms are really pretty especially when a lot of chicory grows together.
Chicory flowers along the Pennsylvanian country roads.
Up close you can see that the petals are fringed at the ends. The chicory flowers are sessile and appear to be attached right at the stem. Leaves are few and variable along the stem and basal leaves are similar to dandelion. Long, arching blue stamens stand out nicely.
Fringed petals of chicory give its flowers a unique look.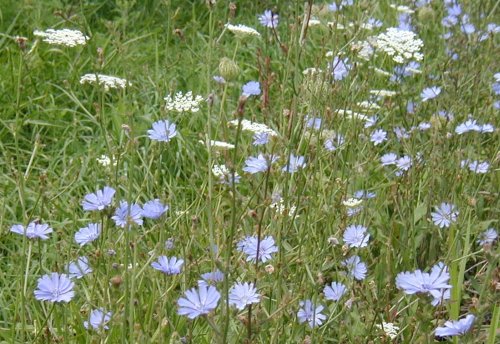 Queen's Anne Lace seems to be chicory's main cohort. I see them together everywhere along the country roads and in empty fields.
The long tap root of chicory can be roasted for use as a beverage like coffee and, as I've read more about it, chicory leaves can be used in salads. Commercial growers in Michigan and a few other states in the Midwest now provide most of the chicory consumed in the U.S. It is an alien plant that European settlers imported into their new country.
Chicory root contains a sugar-like compound that is most likely used for soluble fiber content in my morning cereal.