We don't take a lot of pains to keep a manicured lawn, not even in the front of the house. Being in a rural setting, we don't have a neighbor's neatly trimmed lawn right next to ours to make it look too long. Let's just say the yard has a rough look to it!
Besides saving time, money on gas and oil, and polluting the air less than the Jones, I'm having a little fun letting the wild flowers grow. I actually mow around the volunteer plants that look interesting or seem like they'll flower.
New wildflowers have been allowed to pop up through the thin grass. Some fleabanes have gotten five feet tall – as tall as a little peach tree that I transplanted last year – and there's a few I have yet to identify.
A couple of very similar looking "tall dandelions" appeared in the lawn and they have been saved from the cut of the mower – for now. These plants are composites, or members of the daisy family.
Both of these plants have rather thick and fuzzy, or hairy, leaves arranged in a basal rosette. A single stem rises up from the basal leaves to a somewhat branched head having a few to several yellow, dandelion-like flowers.
Looking down on this flower you might think it's a dandelion, but on closer inspection the tall stem and the thick, hairy leaves tell you it's not a dandelion.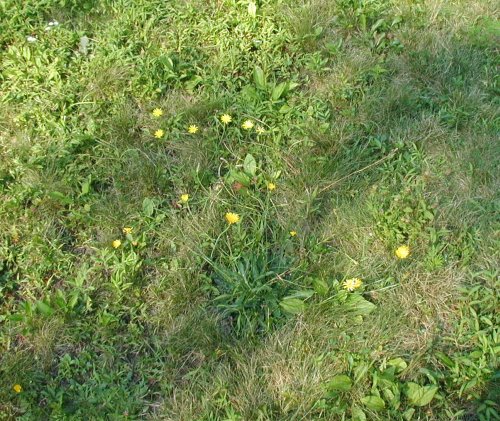 Photo, taken 26jul08, looking down on a dandelion-like, yellow flowering weed.
From a side view the stems obviously come up from a single point. The stems themselves are thin and quite different from the hollow tubes of a dandelion's flower stem.
Photo, taken 26jul08, from Juniata County, Pennsylvania.
Bright yellow flowers of a 'hawkweed-type' wildflower, taken 26jul08.
Flowering of the two plants was separated in time by a few weeks. The taller of the two bloomed in June and the flowering of the shorter stemmed plant is just now petering out.
Leaf shape and the arrangement of the flowers helps to identify each of these plants.
Shorter stem with 2-5 branches each having a single flower. Leaves are lobed, but in a such a way that each leaf looks unique, and very hairy. Stems reach up to 16 inches, but some stems may be half that tall. A few scales are scattered on an otherwise smooth stem. Identified as Cat's-Ears, Hypochoeris radicata, an alien.
Tall stem, 1-3 feet tall, with a group of flowers in a compact head. Untoothed, linear leaves are hairy on both sides. The stem and bracts have hairs as well, black ones at that. Identified as Field Hawkweed or King Devil, Hieracium pratense, an alien.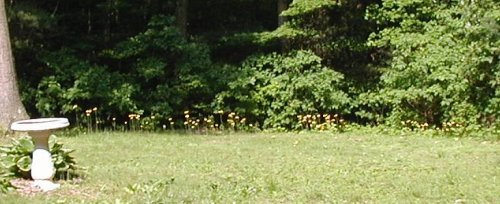 Flowering during the first week of June the Field Hawkweed stands about 2 feet tall, as seen from across the backyard on 07jun08.
Taken last year (02jun07) this photo shows four large mats of flowering Field Hawkweed.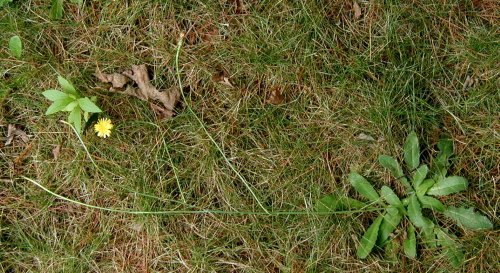 Taken 20jul08, this photo shows the limited branching of the Cat's-Ears stem that rises up from the rosette of leaves. In this case there were four terminal blossoms.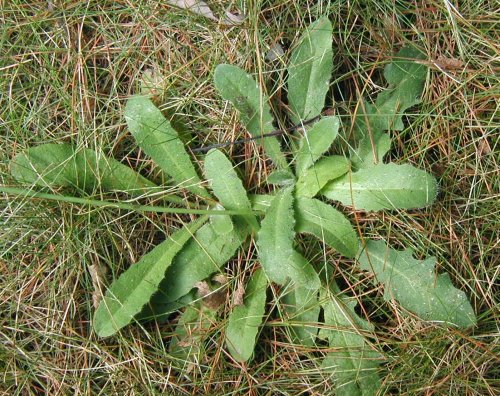 Basal rosettes of hairy leaves of the Cat's-Ears, taken 20jul08. Note the variety of lobe shapes on these leaves.
Basal leaves of the Field Hawkweed are entire and do not have lobes or teeth.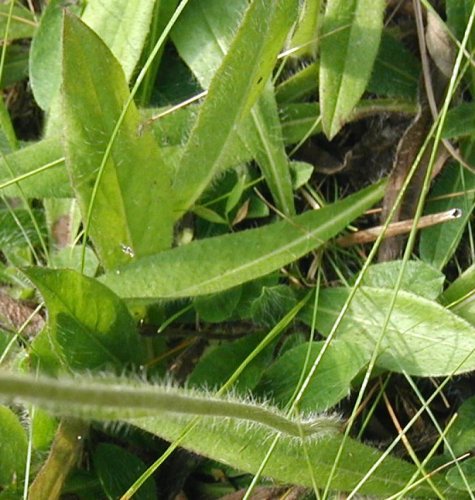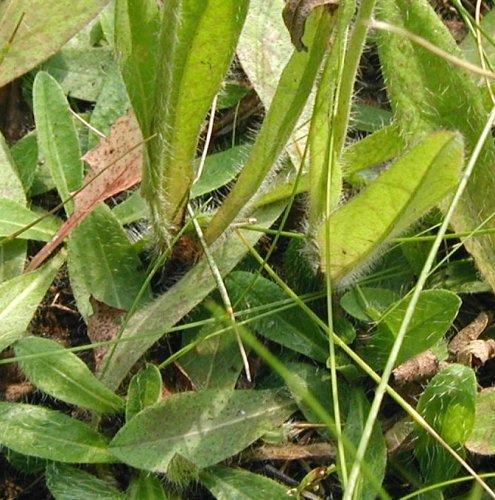 Field hawkweed leaves are quite hairy and the hairs are very noticeable.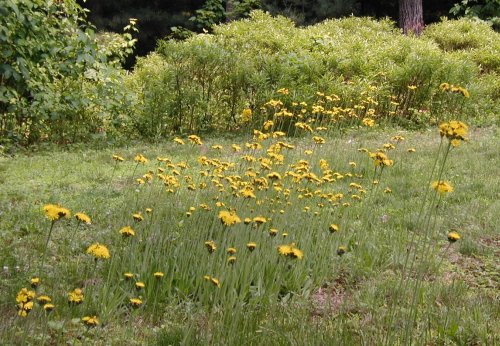 Close-up side view of a grouping of flowering Field Hawkweed, taken last year (02jun07).
Neither plant appears to have any medicinal or edible value, but they do have ornamental value. When they're done flowering, they'll be mowed and looked for again next year.