Today I started out taking a walk with intentions of finding some flowers to photograph, but when I saw so many bag worms my plans were changed. I went back to the house, grabbed a couple of plastic grocery bags and headed back into the woods that separate the house from the farmer's field. In this small area I bagged the bag worms, or tent worms if you prefer, from nearly a dozen small trees. An entomologist would call them Eastern Tent Caterpillars, Malacosoma americanum.
In the past I have burned them out with a lighter or used a stick to scramble their nest. Today, I thought to physically remove them from the cherry trees that they seem to prefer. Is it the taste of the leaves? Why do these destructive caterpillars choose cherry trees for their nests? Is it because many of the cherry trees are already damaged by a blight? I'll research this a bit, but if anyone can enlighten me — please do!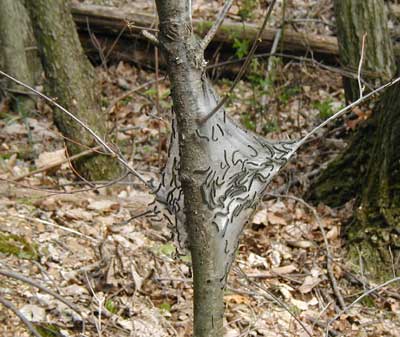 Bag worms, also called tent caterpillars, are infesting this small cherry tree.
Wrapping my hand from the outside of the bag over the nest, squishing the worms into a big handful and sliding them into the plastic was pretty gross! I got over it though. I don't like the idea of spraying chemicals to kill things, so manually removing the worms was necessary. Burning them out was not possible due to the dry state of things at the moment. If left untouched, the caterpillars would eat every leaf on their tree and other nearby trees.