The nights have still had lows in the mid-30 degree range, but the last two days have been warmer than usual for this time of the year. Today's high temperature is pushing up to 65 degrees and the sun feels wonderful!
The peppermint and spearmint growing right next to the house have been active for about a week. The first sprouts are already vining up the stone and reaching for the sunlight. They are already eight or ten inches tall.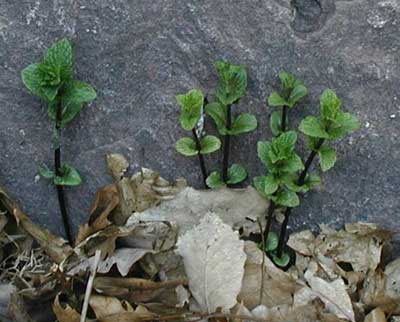 Peppermint vining up the stone of our house in a southern exposure.
The spearmint seems a little bit behind the rapid growth of the peppermint as it is at most two inches tall.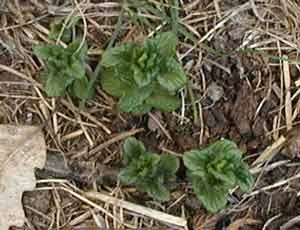 Spearmint getting started on its Spring growth.
Last year both plants grew well in this location on the south side of the house, but the peppermint was much more aggressive. We had to keep trimming the peppermint back so that it would not overtake other herbs in this bed. It is worth keeping around though — mint tea is really enjoyable, hot or cold!
A weed that I see everywhere is blooming and will continue to bloom throughout the summer and fall. Since the ground ivy blossoms are so low to the ground and very small, I used a scanner with the lid open to get this picture. The blossoms open towards the ground and it's practically impossible to obtain an image without breaking apart the plant. Here you can see the growth habit where one layer of leaves and blossoms grow up and over the previous set.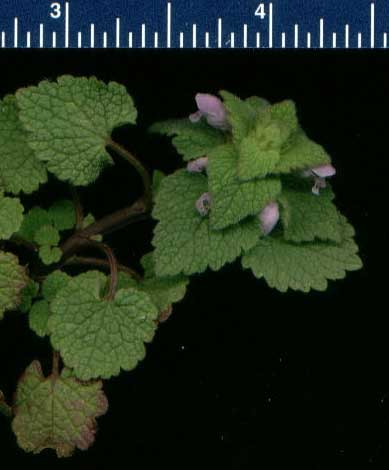 The ground ivy has irregular flowers that remind one of a miniature orchid.
Many of the perennials are starting to wake up. Today I saw the sprouting of false indigo, purple cone flower, hard mums, and even the star magnolia tree looks like it will blossom in the next day or so.