Autumn is a colorful time with tree leaves turning red, orange and yellow. Apples, crabapples and cranberries are in season and they give colors to the landscape as well with their reds, greens and yellows.


Mature fruits from smaller plants draw one's attention to their different shapes in bright red colors. We found three such fruits in our local state park.
Even though the greenery of each plant was withering the identity could still be told. Each berry or fruit has a distinctive shape and attachment to their mother plants.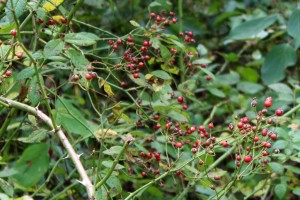 Rose hips are the small red fruits of rose bushes and wild roses. The round fruits have long stems and attach to the thorny stems in loose clusters.
On the fruit end opposite the stem you'll see the remainder of 5 calyx lobes that used to be the green sepals just below the blossom.
The amount of rose hips present can be quite numerous. Rose hips contain Vitamin C and can be collected for consumption in tea or for making jelly.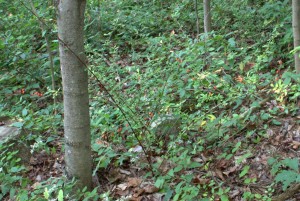 Japanese barberry fruits hang singly from the arching branches of this non-native plant. The berries are oblong shaped and appear to dangle from the stems.
The barberry fruits aren't edible, but birds and other critters may ingest them. I've often seen these berries last throughout the winter.

Jack-in-the-Pulpit fruits are also red like the other two but quite distinctive in appearance. They form a cluster on a stem that comes up from the ground and stands almost a foot tall.
Wildlife surely must eat these berries — they really look tasty!
Rose hips, Japanese barberry, and Jack-in-the-Pulpit fruits were spied on 19 September 2015 at Little Buffalo State Park in Newport, PA.