How to Tell the Difference Between Sumac and Tree of Heaven
Sumac is a plant that we want to encourage growing on the lane down to the highway. In this one location a similar-looking tree also grows, called Tree of Heaven, which serves no utilitarian purpose.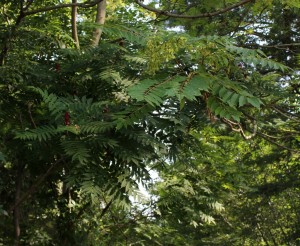 We can see the plants growing throughout the year and then have an easy time telling which trunk belongs to the trees we want to keep and which we want to cut.
Once decisions are made the trees to be cut down are marked with pink spray paint.
Tree of Heaven grows very fast and will quickly overshadow other plants growing there. Since we'd like to encourage sumac to grow much of the Tree of Heaven will be cut down.
But, if the plants are young and there is no fruit present, how to tell the difference? At first glance the huge leaves look the same, so we have to look a little closer.
Staghorn Sumac, Rhus typhina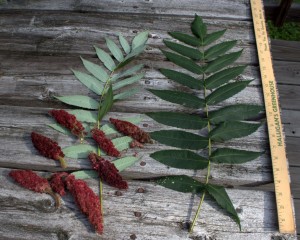 pinnately compound leaves
lance-shaped leaflets strongly toothed
leaflets without stems, sessile
velvet-like twig bark with long hairs
small round fruits in upright cone-shaped cluster at the ends of branches
individual fruits fuzzy or hairy and red when mature
(Click on any image to see a larger view.)
Tree of Heaven, Ailanthus altissima
pinnately compound leaves
lance-shaped leaflets with basal teeth
leaflets with short stems
twig bark smooth
yellow-green winged seeds dangle in clusters
Study Leaves By Rubbing Them
When learning about new plants it's helpful to study their leaves up close by rubbing them. You know, as a kid we all did this with the leaves we collected in the fall.
Put a leaf between two sheets of paper and rub the top piece of paper with a pencil, charcoal or crayon. This rubbing action transfers the three-dimensional design of the leaf to the paper.
Making a rubbing of plant leaves reveals the veins, leaf edges and overall shape in a way that's more memorable than when looking up at the leaves while they're still hanging on the plant.

In this case the different leaflet shapes of Staghorn Sumac and Tree of Heaven were uncovered and highlighted in a fun way.
Staghorn Sumac has strongly toothed leaflet edges and leaflets with no stems.
Tree of Heaven has slightly wavy leaflet edges and a couple of strong teeth near the base of the leaflets, which do have small stems.
Reading about how a leaf should look a certain way doesn't give your brain the same strong image as touching and feeling the leaf itself. Making a leaf rubbing involves us in a tactile or sensory way and that probably ingrains the leaf image better in one's mind.
Do some leaf rubbings with children for a great outdoor activity. Or have a scavenger hunt for leaves and bring them inside on a hot day. The kids don't have to know you're studying the leaf shapes, but after all they might learn something, too.