Every year I visit this particular section of the woods to see how the Large Whorled Pogonia is making it.
Large Whorled Pogonia, Isotria verticillata, is a native orchid that we have growing wild on the mountain top. I've seen only a few flowers in the nine years since I discovered this group of plants and they were all blooming only in that one year. My pics of the flowering Whorled Pogonia were from 2010.
According to Peterson's Field Guide to Wildflowers
a close relative, the Small Whorled Pogonia, I. medeoloides, is a rarity to see in bloom, if at all:
"This plant remains dormant underground for as much as 10 to 20 years before reappearing."
Who knows what factor governs the reappearance and blooming of the Large Whorled Pogonia.
There are three forested areas adjacent to each other where the small pinwheels of this interesting plant appear. Two areas on the east side of the house have many individuals (usually) and one area on the south side of the house where only one plant has been seen.
Last week I counted 15 pinwheels of 5-6 leaves among the two eastern areas and none in the southern area. None of the plants were in bloom.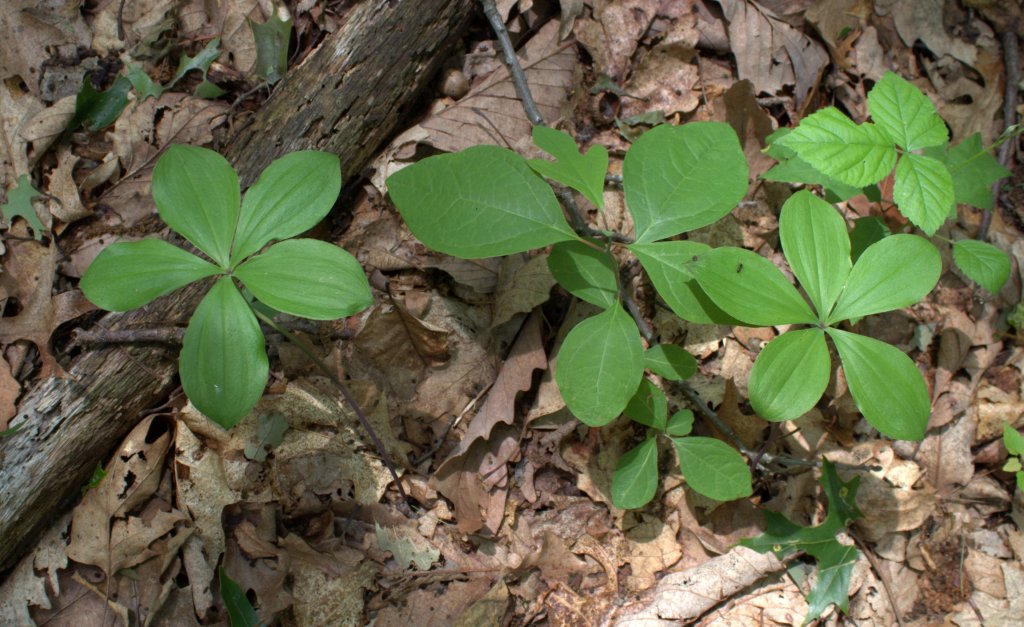 Perhaps winter was a bit too hard for them this past year. It's a curious thing why some years will have a great bounty for certain plants and yet very little for others.
It was a poor blooming year for the Pink Lady Slippers on this property, too. There were 11 total lady slippers and only 1 blooming here, but across the valley over to the next mountain ridge there was a beautiful display of many blooming so-called Moccasin Flowers.