Look in the sunshine for the golden dandelion-like flowers of Coltsfoot. They'll be smiling back at you if they're in the sun.
Coltsfoot will bloom for another week or so in South Central Pennsylvania. You can see it along country roads or in places where there hasn't been too much disturbance – you know – off the beaten path.
The first day we saw coltsfoot blooming this year was on April 9th. Warmer and sunnier days brought out more blossoms, but as Spring would have it cloudy skies and rainy days made the flowers close up again. Sunny skies will likely have them open again tomorrow.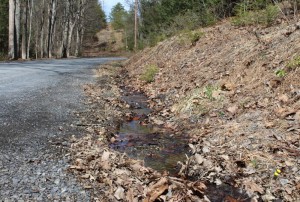 Spring water runoff trickling down a mountain at the side of a road is the perfect micro-habitat for Coltsfoot. It is a relatively warm spot being able to soak up some heat from the road and getting sun from the lack of a canopy directly overhead.
Coltsfoot can grow in areas that will be populated in a later season by other plants. Here, we see its flowers coming up through the left over stems of the last inhabitant.