In my early Spring post I was wrong about the Dark-eyed Juncos having gone north for the season. On the 9th of April I saw a small troupe of juncos pecking the stones on our gravel driveway. Obviously, all the juncos hadn't flown back to Canada quite yet.
Robins made their Spring appearance and have been hopping around the place for a few weeks now. I suppose the juncos will leave any day, unless they are year-round residents that stay in the Appalachian Mountains all year.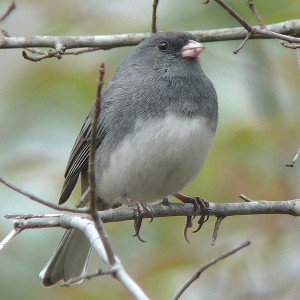 Another blooper popped up last week when listing a few early blooming plants that are ahead of schedule this year. As luck would have it coltsfoot was mentioned as one of the plants that were finished blooming for the season, albeit earlier than normal. Such a definitive statement is bound to get one in trouble with the whims of Mother Nature.
In most places along our country roads you can see the seed heads of coltsfoot plants that have already bloomed for the year. The round, composite seed heads are much like the spent flower heads of dandelions that a child picks up to blow the seeds into the air.
The flowers in the photo above faced south with at least a road's width of open space to its south. One usually finds this early spring bloomer along roadsides and in full sun. Most of the coltsfoot flowers have ended their early blooming for the year but small pockets of flowering coltsfoot may still be seen. Look in secluded or shady areas for the last-flowering coltsfoot blossoms.
Trading the cold of night for the warmth of sunshine, coltsfoot flowers gain enough energy to raise their heads and open their composite flowers. The coltsfoot in this particular location didn't seem to open their flowers completely by late afternoon, so they were probably on their last few days before turning to seed.
The last two photos are of the same clump of coltsfoot, taken about an hour-and-a-half apart. This grouping of coltsfoot was along a Pennsylvania country road and adjacent to woodlands on the south. Sunlight was filtered through the trees and so made for a late-blooming set of coltsfoot.