Chamomile flowers don't seem to be afraid of the late autumn weather. It's been a pleasant surprise to see the little daisy-like flowers popping up all the last month. Even though we had 8 inches of snow just before Halloween and several hard frosts since then, the chamomile plants still had flower buds on them in the beginning of December.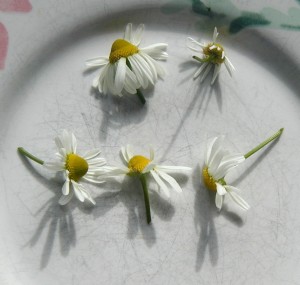 Chamomile flowers were picked fresh on 26Nov2011 and dried for several days on a window sill. Dried flower photo below taken 7Dec2011.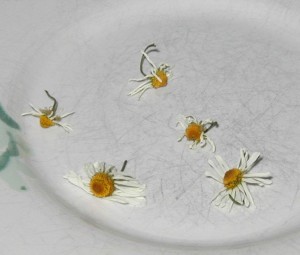 Several dried chamomile flower heads can be steeped in a cup of hot water for a delicious and calming cup of tea. Chamomile tea smells like green apples and has a soothing effect. To keep the scent fresh, store the dried flower heads in a glass jar. Keep the lid loose until you're sure the flowers are completely dry. Enjoy with honey in a cup of tea.