It's always a delight to find a new flowering friend, so I was pleasantly surprised to find one while driving around taking in the sights of Mountain Laurel blooming.
As I slowed down before turning onto another country road a different white-flowering plant caught my eye. Its flowers seemed scraggly as if the petals were getting ready to fall off. I recognized that I didn't know what it was so I stopped to take a closer look.
It was a single specimen having a stem that rose up about two feet tall. Its leaves were jagged-looking in threes. Photos taken 29 May 2011.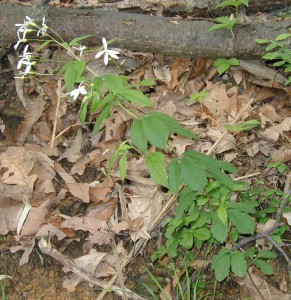 Bowman's Root, Gillenia trifoliata, is native from Michigan to New York and points south in rich woods, according to Peterson's Guide to Wildflowers
. It's a member of the Rose family, Rosaceae.
Leaves with toothed edges and prominent veins occur in triplets. Each leaflet is 2-3 inches long and tapered at the tip. The leaves are nearly stemless and alternate up the main stem.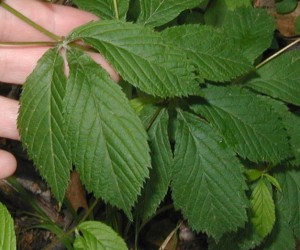 The flowers are pure white with five long petals that come to a point at the tips. The petals emerge from a light green, bulbus calyx in a tubular shape and then unfurl as the blossom opens.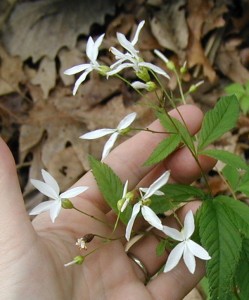 This plant was at the side of the road in dappled shade.
A similar and closely related plant is American Ipecac, Gillenia stipulata. It has very large stipules at the base of the leaves that make them appear to be five-parted. American Ipecac is used as an emetic, in other words to make you throw up.
It's interesting that an alternate name for Bowman's Root is Indian Physic. According to Peterson's Medicinal Plants Guide
, a tea made from the whole plant was used traditionally for its strong laxative and emetic properties. Very small doses were used for indigestion, colds, asthma and hepatitis. Rheumatism, bee stings and swellings would be treated with a wash or poultice of Bowman's Root.
As I mentioned earlier I came upon the new plant while driving around looking at the pretty Mountain Laurel, Kalmia latifolia, in bloom. It's a large evergreen shrub that may remind you of Rhododendron bushes. The long, oval leaves are leathery to the touch. It has unique flowers that you should see up close and in person. In case you've missed it here are a couple of pictures.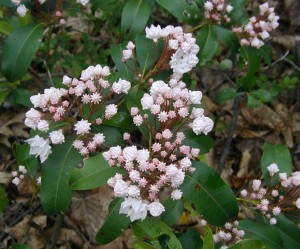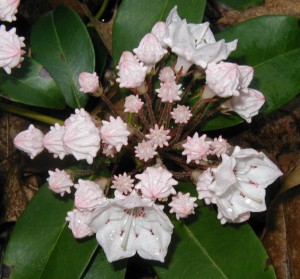 (Click on any photo to see a larger image.)