A weed that I've enjoyed seeing, until they had a population explosion in the vegetable garden recently, is the yellow oxalis or sour grass.
Yellow oxalis is also known as Yellow Wood Sorrel, which is the common name used for two closely related plants, Oxalis stricta and O. europaea. Both plants are native to the eastern United States. The outward difference between the two species is in the way the seed pods are held. The seed pods of O. stricta have a sharp angle in their stems, while those of O. europaea are not bent. Photos in this post are of O. stricta.
The leaves are like shamrocks, so sometimes we call it that. Each leaf is made up of three heart-shaped leaflets, joined at their bases.
By June the earliest flowering oxalis will set seed. Seeds develop in their candle-like spikes, which are the pieces to eat for a sour treat, although the foliage tastes sour too.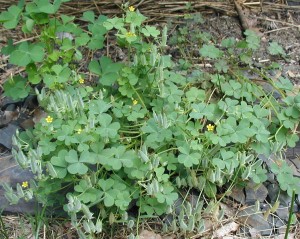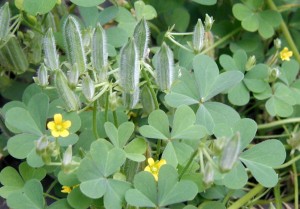 While pulling out weeds we often uncover toads. The little ones we find in the springtime are actually cute!