Checking the fruit trees out back one day at the beginning of August, I saw two groups of yellow-orange and black-striped caterpillars. There were a dozen or more caterpillars all huddled at the ends of two empty branches of a blueberry bush. They must have eaten the blueberry leaves with abandon as all the leaves were gone on the stems that the squishy critters were found. None of the other four blueberry plants had any of these caterpillars.
Funny thing is I found them by spotting their poop. Those little grenades tend to collect under caterpillar feeding areas and give away the hungry camoflaged mouths.
Once you see the scat you can more easily spot the critters who deposited it. Caterpillars that have found the right food source will stay put and continue to feed, so their scat is usually directly below where they've been feeding. It's a little surprising that I didn't see the critters first, because they were all huddled together at the end of the branches.
Large grouping of caterpillars huddled on one stem near other stems that they stripped of leaves.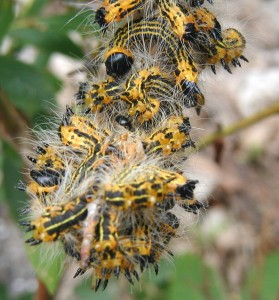 The blueberry shrubs and other fruit trees were checked often in the following weeks, but we haven't seen this type of caterpillar again. I wonder what type of butterfly they would have morphed into. It's really too bad they chose to eat from that blueberry bush!