May's beautiful colors were highlighted in the country by the large swaths of pink, lilac, purple, and white flowering Dame's Rocket, a.k.a. Dame's Violet, Hesperis matronalis.
Four-petal flowers cluster in terminal spikes at the top of three feet tall stems. For a two or three-week period in May Dame's Rocket will be blooming in South-central Pennsylvania.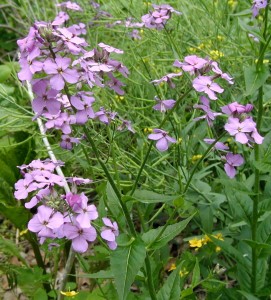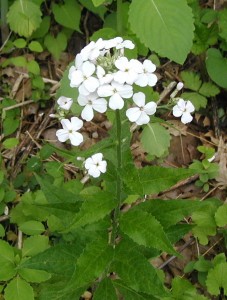 Dame's Rocket seems to prefer shady areas near the tree line or at the edge of the trees where the forest meets the road. The ones photographed above were growing in a waste area in between a two lane road and a highway access road.
Native to Europe and Asia, Dame's Rocket was brought to America hundreds of years ago for its beautiful flowers. It has since escaped gardens to become naturalized in the Eastern U.S. where it is often seen in fields and near roads. It has been so successful that three states consider it invasive. Colorado has it on its B list of noxious weeds, Connecticut has banned it, and Massachusetts has prohibited it.