Image via Wikipedia ..pretty lily
Star-of-Bethlehem was another roadside alien with pretty flowers that caught my attention. A return trip to the same location saw more pocketknife action.
Always keep some plastic bags in the trunk, you never know when they'll come in handy. They're great for carrying plants, dirt and all!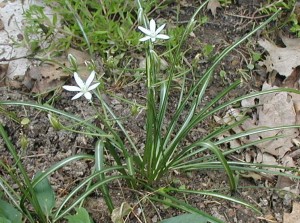 A long green stripe on the underside of each petal helps to identify this plant as Star-of-Bethlehem, Ornithogalum umbellatum. You can see the green stripe in a few flower buds that are closed. (Click on photos to see closer view.)
Narrow leaves, each having a white midrib, might get a foot long, but they softly arch over forming a mound. All leaves are basal, and leaf margins are entire or toothless.
Star-of-Bethlehem is a Spring-flowering perennial with thin, strap-like foliage that reminds one of grape hyacinth or another bulb plant. Six petals, six stamens and parallel-veined leaves mark this plant as a member of the Lily Family, Liliaceae. Other members of Liliaceae include tulips, hyacinths, onions, trilliums, and of course, lilies.
Midnight acquisition, five-finger discount, extreme gardening…whatever you call it, I picked up a specimen of this spring flowering bulb from the roadside. It was transplanted into a flower garden that marks the septic tank on our property. Since the septic was pumped out recently the plants near the dug out area were moved out-of-the-way. I was glad to see the Star-of-Bethlehem came back this year. When this plant gets a little bigger the flower spray should be awesome.
In the photo above you can see a few spent flowers and a few that have already closed up for the day in addition to the two open blossoms. Flowers are only open in the sunshine. When there are several blooms open at a time, this plant is an eye-catcher. The blossoms are held in clusters and each flower is about an inch wide.
Nothing edible about this poisonous plant as the bulbs and leaves contain toxic alkaloids (Peterson's Edible Plant Guide
). For enjoyment in the garden only.
The blooming period for Star-of-Bethlehem in South-central PA was about one week in 2010.