I'm happy to report that the first Ozark Beauty strawberries were eaten this week. We started with six plants last summer and since they had to adjust to their new surroundings they didn't put out runners, so we still have six plants. Flowering started four weeks ago. The nice thing about this variety is that they're an everlasting type, meaning that they will bloom and produce fruit two or three times in a growing season, not just once.
You can't get a fresher taste of strawberries than picking them fresh!
This time of year is very pretty in the woodlands. Violets have been flowering for a month and now the blackberry shrubs are in full color. Ok, they're not exactly colorful as the blossoms are all white, but they do give a splash of color in the otherwise green and brown landscape.
The Solomon's Seal and False Solomon's Seal are blooming all over the woods. Perhaps the wet, cool weather has been the best weather for the forest flowers. I haven't seen this many blooming forest-dwellers in previous years. The ones putting on the biggest show are the Maple-leaved Viburnum. Everywhere you turn the fuzzy-looking flower clusters are shining white. Stamens project up and out so the clusters of flowers look fuzzy from a distance.
Maple-leaved viburnum flowering in the woodlands.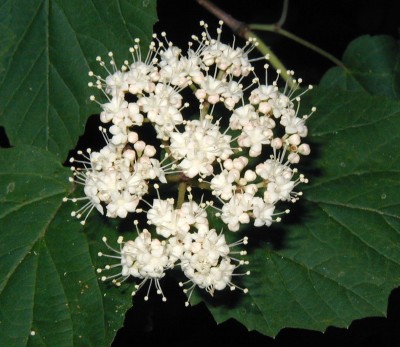 White stamens project above the white petals of viburnum. Unopened flowers have a tinge of pink.
Also blooming now are deerberry, bastard toadflax, dame's rocket, common violets, and a host of planted flowers in the garden, like pansies, dahlias, marigolds, johnny jump-ups, false blue indigo and irises.