My walk through the woods today was rather chilly, but not uncomfortably so as I was prepared by wearing long-johns and an earband.
I was looking for new sprouts and found several. Brambles and wild roses have started poking their leaves out of their winter buds. The plants along the lane are further along than others in more wooded areas. Forsythia and hawthorn have also opened their buds to start their spring growth.
Wild rose leaves catch the early April snow.
The star magnolia has opened a couple of its large buds and the elderberry shrubs are continuing their leaf development.
I found my favorite Spring Ephemeral in its earliest stages of bloom. The round-lobed hepatica, Hepatica americana, was sporting a single bloom so far. The evergreen leaves collected the flakey snow, while the bloom hung with her head down as if to say she wasn't ready to show all.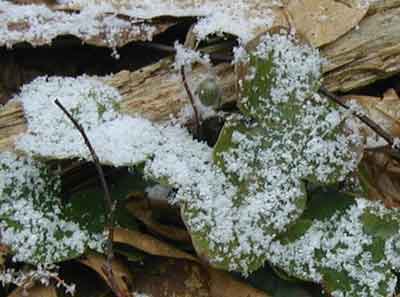 A single, closed blossom of round-lobed hepatica surrounded by its leaves catching snowflakes.
Columbine has been growing for a couple weeks now. Many small plants are arising from one original plant that was allowed to go to seed. Guess we'll have to start transplanting as soon as possible!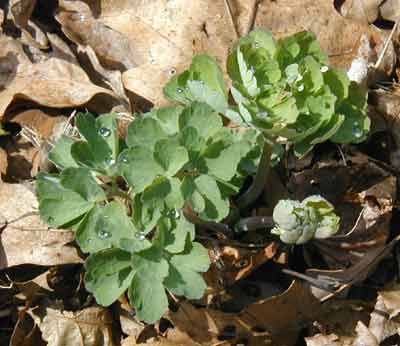 Columbine greenery starts life as a tight little ball of leaves that gradually open to catch the sun's rays.
Spiderwort has come up and multiplied since last growing season and the wild ginger is about ready to break out of the ground. Other garden dwellers that have been revived from winter's sleep include the mints, chrysanthemums and the false indigo.
A group of yarrow that I spotted last fall coming up in the lawn has begun its growth, too. These plants will be scooped up and placed into a native plants garden. We'll see if it transplants well.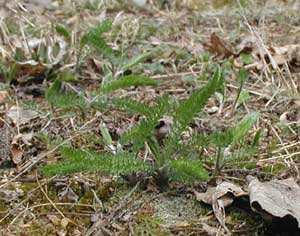 Yarrow, Achillea millefolium, is noted by its finely dissected leaves that give off a pleasant 'flower arrangement' aroma when touched.