Witch hazel trees are the last blooms that I think we'll see this season, although I was surprised to see one blooming in September. The long-petaled flowers look a little scraggly. No sepals visible, just thin yellow petals.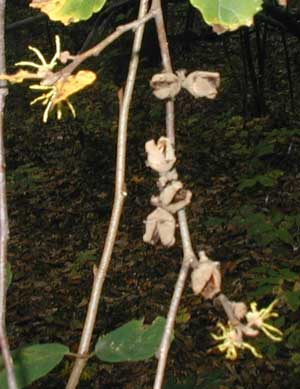 Witch hazel blossoms next to last year's seed pods.
I remember last November, as we tromped through the woods in search of the perfect white pine for a Charlie Brown Christmas Tree, that we saw a whole stand of blooming witch hazel trees. I'll be on the lookout for them again this year!