It's the beginning of Autumn and we're driving along country roads in central Pennsylvania. Everywhere we see bright swaths of goldenrods in the fallow fields next to the fields growing corn or soybeans. Corn harvesting is just getting started and the soy has yet to fully ripen.
We don't always use the most modern equipment around these parts. Guess it's just not needed. Who even needs rubber tires?
A team of four horses pull this cart for harvesting the fields.
We see cows everywhere we go. Say Hello to Ferdinand, my favorite horned cow who lives down the road.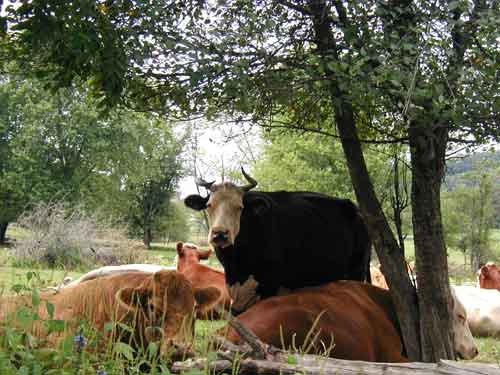 Ferdinand standing watch over the herd.
At the roadside of a soybean field was this nice patch of Lobelia.
Lobelia along a curve on a country road.
The Lobelia was growing in a ditch that had standing water in it. Not sure what species of lobelia it is but I think I'd like to go back and collect a few seed pods. We could spread the seeds along the water drainage areas of our lane.
Lobelia looks nice in a grouping.
Lobelia is a close relative of the Cardinal Flower, which I have seen growing next to a freshwater pond. It would be dazzling to have both of these members of the Bluebell Family in a garden of native plants.
Lobelia, member of the Bluebell Family.