About a half day's drive northeast from here one would expect the flora to be somewhat behind in blooming. I observed several Spring ephemerals in bloom near Albany, NY whereas the same flowers were past blooming in my neck of the woods in Southcentral Pennsylvania. Here, in NY, periwinkle and common violets are blooming profusely at the edge of some juniper bushes. A beautiful red trillium is a great example of this longitudinal blooming shift.
Red trillium still in bloom in New York.
Skunk cabbage leaves are already quite large, but Mayapples have not opened their blossoms yet in NY.
Mayapple flower buds are not yet open in NY.
Skunk cabbage near the Kaikout Kill, Albany Pine Bush Preserve, Albany County, NY.
Honeysuckle blossoms are here, but not yet offering their sweet scent.
Northern downy violets are still in bloom in NY, but have all disappeared in PA.
Taking a hike along the Red Trail in Albany Pine Bush Preserve, I spotted an orchid that was not yet in full bloom. The pink lady's slipper in NY will be blooming in about a week's time while these orchids are at peak blooming color in PA.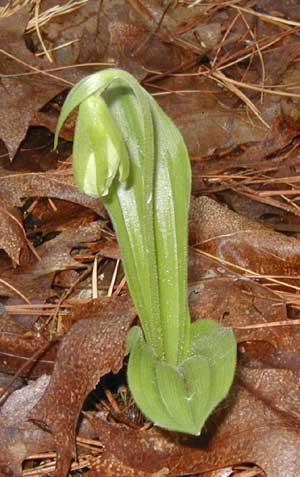 Pink Lady's Slipper a week before it is to bloom.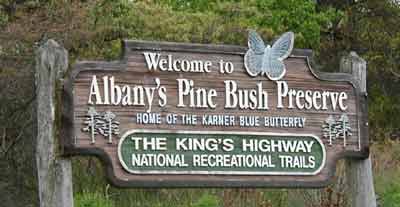 Albany Pine Bush Preserve, Albany County, New York.
The Pine Bush is described as a "forever green" area that is protected from further development. It encompasses a unique habitat which is home to the endangered Karner Blue Butterfly and 50 other imperiled species. The Karner Blue Butterfly lays its eggs on the Wild Lupine, Lupinus perennis, and the caterpillar depends on the native wild lupine for its only food source. Protecting the habitat of the wild lupine then protects the Karner Blue Butterfly and other endangered butterflies.
Wild lupine is the only native lupine in New York State.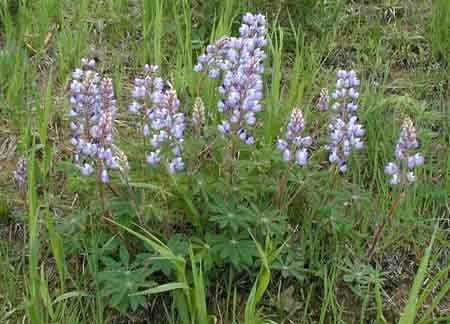 Wild lupines are necessary for the survival of the endangered Karner Blue Butterfly.
The soil of Pine Bush is unbelievably sandy. The land is basically a bunch of sand dunes in what is called a "pine barrens". The pine barrens of the Northeast US are rapidly becoming fragmented to the point of no return. Read more about the Albany Pine Bush Preserve to learn more about this special habitat and its inhabitants.
One inhabitant I saw evidence of its having been there, but did not actually see the bird, was a pileated woodpecker. The telltale sign was a rotten tree having big pieces chiseled out and strewn some feet from the tree. The bill on this woodpecker is quite large and so it can drill out large holes in trees in search of a meal. My boot is in the bottom of the picture for a size reference. The wood splinters are as big as my index finger!
Large wood splinters are signs that a pileated woodpecker lives in the forest.