I love that name, Running Pines, so it takes me a minute to recall the real name of these forest-dwelling plants. It's not a misnomer though, they really do look like little pine trees running through the forest.
And when I say little trees, I mean miniature ones.
Running Pines are a type of Club Moss, which are more closely related to ferns than flowering plants. They reach less than a foot tall. Maybe 6 or 8 inches tall.
We can find two kinds of running pines on our mountain ridge. One kind looks like miniature Christmas trees and the other looks like tiny flat cedars. The Christmas tree type is called Tree Clubmoss, Lycopodium obscurum, and the flat cedars are known as Ground Cedars, L. tristachyum.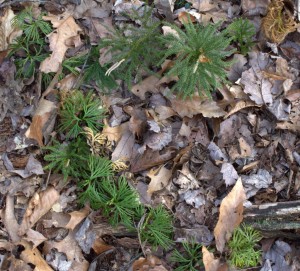 Although both species are included in the above photo (tree clubmoss is on the top right and ground cedars are on the left), it's more usual to find them in separate colonies.